Big Update!!!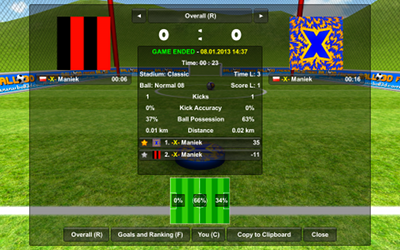 1.033
- Statistics and rankings!!!
- Hockey stadium has been improved.
- New command in the chat: /unbanall – it will remove all bans from the server.
- Bug fixes and improvements.
We have the Best Players ranking. You are gaining points while you are playing.
Goal: +70, Assist: +50, Accurate Kick: +30, Ball Interception: +20,
Ball Loss: -20, Ball Possession: +1 for every second.
You can use "Copy to Clipboard" button, to copy the stats into your clipboard. You can then share them with your friends!
Play now: www.ball3d.com