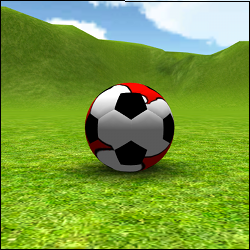 We have a new ball called Intergalactic Ball! It's different from other balls because you can actually catch it! It will stick to you when you will press the jump button.
Ball similar to this one will be used in the upcoming Basketball and Handball stadiums. Because the new stadiums will be very different from the ones we have now, I have decided that it will be better for everyone, if I will make a new game instead of adding them to Ball 3D. That new game will be exactly the same as Ball 3D, but you will be able to play only Basketball and Handball (and probably some other stadiums in the future).
I am a bit disappointed that so few people play on the custom stadiums I have made in the past, but I understand why, because I don't play them too much as well. Basketball and Handball stadiums are going to be awesome and it would be a shame if no one will play them. I can't let that happen.
I will introduce the name of my new game and show you some screenshots in a few days. I hope I will finish it in less than two weeks. For now you can test the Intergalactic Ball to see how it will feel to play that new game. If you have some suggestions let me know.
1.039
- New Ball: Intergalactic Ball.
- Other improvements.

Play now: www.ball3d.com