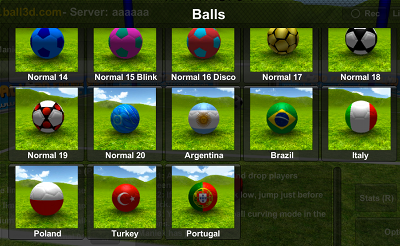 You will love this update!
1.042
- 4 new stadiums (Street Stadiums).
- 10 new Balls (see on the screen above).
- All balls look better now (even the older ones).
- You can scroll the room list with mouse wheel and arrow keys.
- I have removed the audience from the Hall Stadium, because it created lags. I will make better audience in the future.
- Other improvements.

For those who are waiting for the Basketball, I want to say that I am already working on it.
I have really big plans regarding Ball 3D, thanks to the players I have a nice motivation to make the game even better. Thank you for playing!
Play now: www.ball3d.com