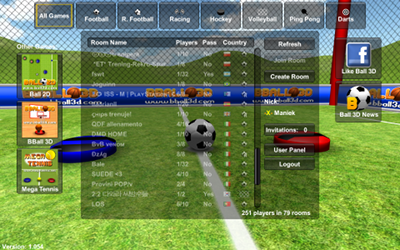 The long awaited update is already here! You can now register your name and no one will be able to use it! I hope you will enjoy this update. More updates will come soon. Invite your friends and enjoy Ball 3D!
1.054
- Account Registration System!
- You can now use 28 colors from the color palette.
- Press the "V" key to see the menu for as long as you keep it pressed.
- The room list will not scroll up after you press "Refresh".
- Classic GK has been improved.
- Spectators can move when the game is paused.
- Many other small fixes and improvements.

Play now: www.ball3d.com